Welcome to the Fleming County Fiscal Court Website


Fleming County is a county located in the U.S. state of Kentucky. As of the 2010 census, the population was 14,348. Its county seat is Flemingsburg. The county was formed in 1798 and named for Colonel John Fleming, an Indian fighter and early settler. It's a prohibition or dry county.
Fleming County was established in 1798 from land given by Mason County. The first courthouse, possibly built of logs, was replaced in 1830 and again in 1952.
According to the U.S. Census Bureau, the county has a total area of 351 square miles (910 km2), of which 349 square miles (900 km2) is land and 2.8 square miles (7.3 km2) (0.8%) is water.

~ Larry Foxworthy, Fleming County Judge/Executive




Read the messages from Judge Foxworthy:

Important Healthy at Home / Use of Parks During Emergency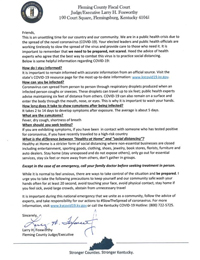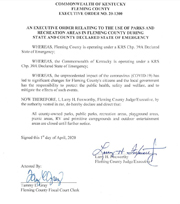 Click on image for a larger view
All Fleming County Government Offices will be closed to the general public until further notice.
Office staff will still be available to take calls and answer questions. Please do not hesitate to contact the office of the Judge/Executive via phone if you have any questions or concerns."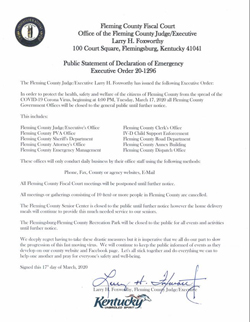 Click on image for original view
For more information on COVID-19 here are some useful links:
https://www.cdc.gov/coronavirus/2019-ncov/index.html
,
https://chfs.ky.gov/agencies/dph/pages/covid19.aspx
,
https://www.sba.gov/funding-programs/disaster-assistance
The Fleming County Fiscal Court is excited to announce that we have partnered with the @uscensusbureau to support the #2020 Census!
As a partner, we will be working to ensure that our community is accurately represented.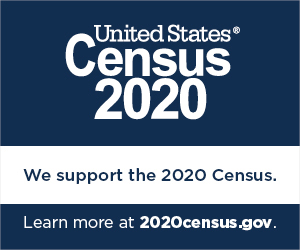 To learn about the upcoming census, visit
2020census.gov
Shape Your Future: The 2020 Census
https://www.census.gov/library/video/2019/shape-your-future.html
The Fleming County Fiscal Court will hold the REGULAR monthly meeting on Tuesday June 09, 2020 at 9:00 AM.
Fleming County Fiscal Court meets the second Tuesday of the month.
Meetings are held on the second floor courtroom at Fleming County Courthouse. 100 Court Square, Flemingsburg, KY 41041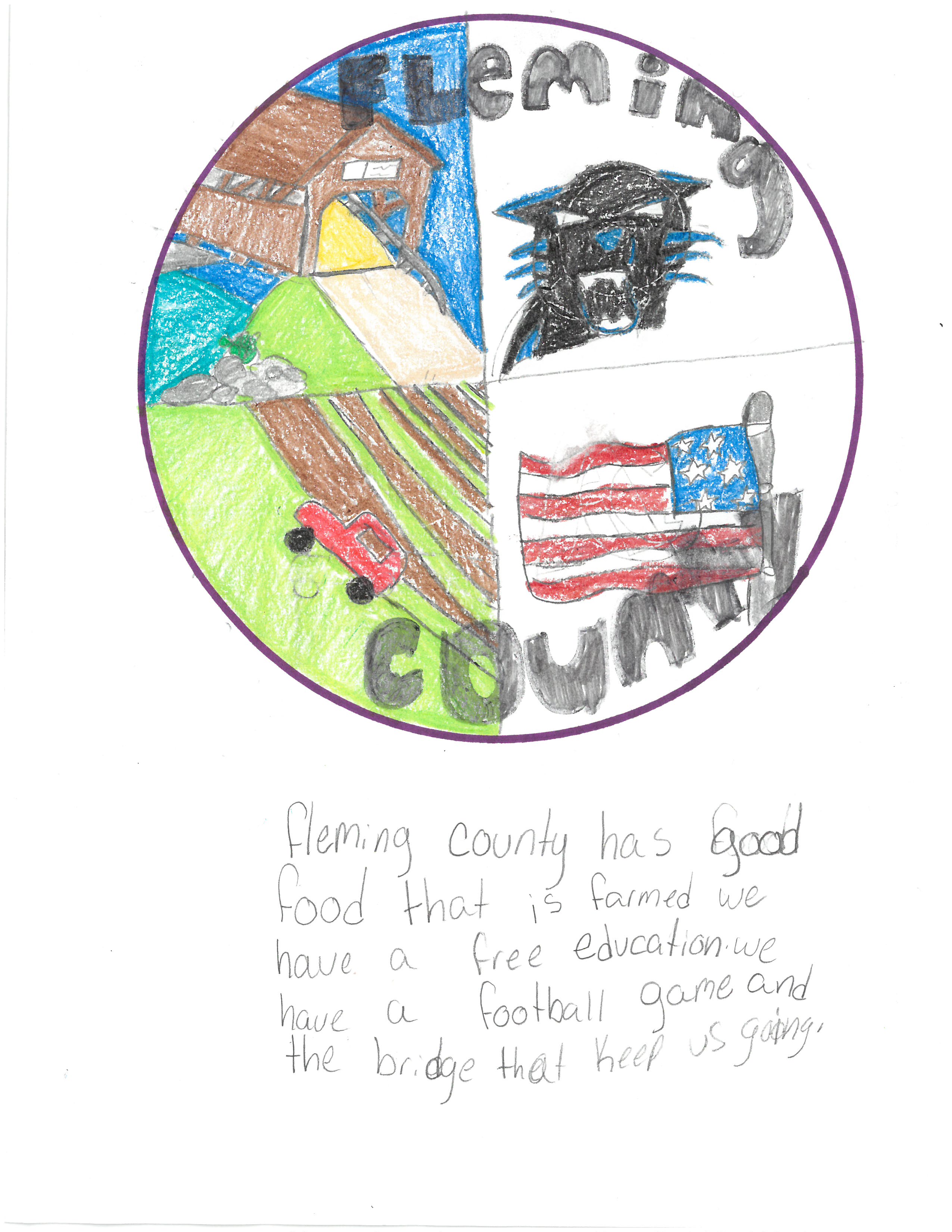 Kylie Hamm Flemingsburg Elementary 6th Grade