Anthony Vise
Road Department Supervisor



493 Industrial Drive
Flemingsburg, KY 41041

(606) 845-1871 Phone
(606) 849-0169 Fax

Terry Taylor
Asst. Road Department Supervisor

Road Department Secretary, Solid Waste Coordinator and FEMA Applicant Agent for Fleming County
Donna Ramey

Donna has worked at the Fleming Road Department since July 2003. She is a lifelong resident of Fleming County and lives on a farm near Tilton with her husband Bill. Her job duties include Road Department Secretary, which includes answering the phone, keeping records of all work done by the Road Department and making the county road signs. She is also Solid Waste Coordinator and FEMA Applicant Agent for Fleming County. If you need to reach Donna, call her at (606) 845-1871 or email her.

email: roaddept@gmail.com
Click the image for a larger version.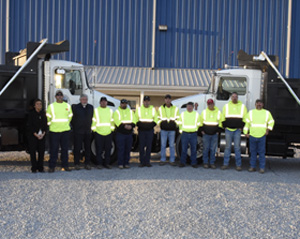 Department Employees Left to Right Donna Ramey, Jarrod Monroe, Dewey Gulley, Randy Hunt, Travis Tackett, Jamie Hunt, Terry Taylor, Robbie Carpenter, Dwight Jolly, Justin Gray, Anthony Vise
About the Road Department
The Fleming County Road Department is responsible for maintaining all 350 miles of county roads. Functions of the department include: resurfacing roadways patching potholes placing stone on shoulder areas installing & maintaining proper signage mowing right-of-ways cutting & removing fallen trees & limbs snow removal maintaining gravel roads installing & maintaining culvert pipes removing roadside debris.