Sheriff
Sheriff Gary Kinder

201 Court Square
Flemingsburg, KY 41041

Phone: (606) 845-4701
Fax: (606) 849-8033

email: garykinder243@gmail.com
Website: Fleming Sheriff Facebook Page



Gary Kinder has served as the Fleming County Sheriff since January 2015. He was employed as deputy for 9 years by Fleming County and 2 years as Take Force Officer at Carlisle Police Department. He is a lifelong resident of Fleming County is married to Ashley Robinson Kinder, they have one son Garrison. Sheriff's Office is located at 201 Court Square, Office Hours are 8:30-4:30pm to contact Sheriff Kinder you can email him @ garykinder243@gmail.com or call 606-845-4701.
The Fleming County Sheriff's Office strives to maintain the highest standards of excellence utilizing training and technology to create a safe environment for the citizens of Fleming County and the Commonwealth of Kentucky.
Fleming County Tax Record Database
The Fleming County Sheriff's Office is now offering a quick tax bill search for your convenience. Click on the button below to access the search page.



The Fleming County Sheriff's Office will strive to fulfill the Duties and Responsibilities of the Sheriff's office through service, integrity, and professionalism. The Sheriff's Office will promote public safety utilizing partnerships to:
A.) Prevent, reduce, and deter crime and the fear of crime;
B.) Enhance highway safety through education and enforcement and
C.) Safeguard property and protect individual rights. The Fleming County Sheriff and his Deputies are duly sworn law enforcement officers in the Commonwealth of Kentucky authorized for arrest powers.
The Fleming County Sheriff's Personnel shall enforce all local, state, and federal laws utilizing these powers.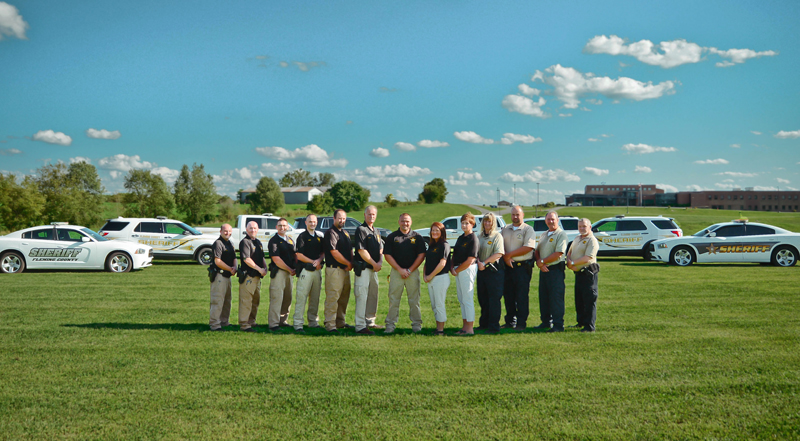 In order left to right:
Deputy Jonathan Hughes, Deputy Matthew Perkins, Deputy Justin Conley, Deputy Bradley McIntyre, Deputy Taylor O'Connor, Deputy William Hendrix, Sheriff Gary Kinder, Secretary Stacy Corbin, Secretary Carla Grannis, CSO Supervisor Jennifer Warder, CSO Bradley Vice, CSO Timothy Jessee, CSO Jim McGlothin, Absent from photo Deputy James Welch
Click on image for a larger view!